How a Mortgage Calculator Helps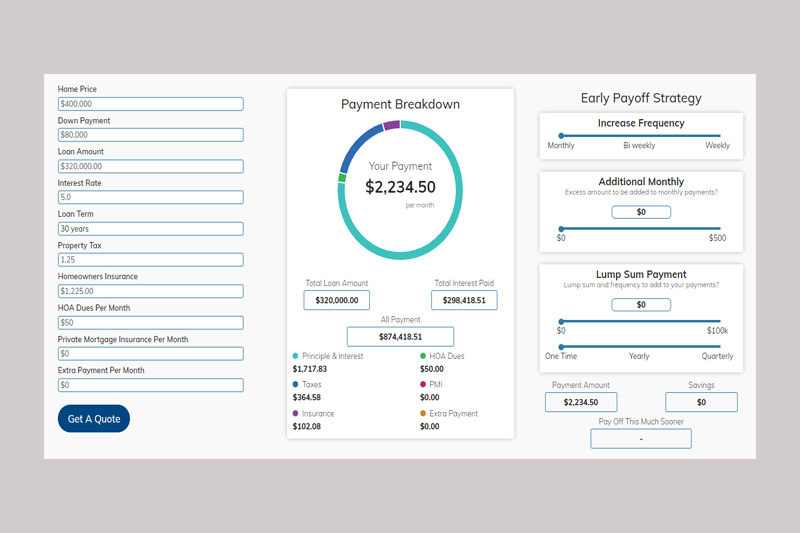 As you set your housing budget, determining your monthly house payment is crucial — it will probably be your largest recurring expense. As you shop for a purchase loan or a refinance, FCF's Mortgage Calculator allows you to estimate your mortgage payment. For various scenarios, just change the details you enter in the calculator.
The calculator can help you decide:
The loan length that's right for you. If your budget is fixed, a 30-year fixed-rate mortgage is probably the right call. These loans come with lower monthly payments, although you'll pay more interest during the loan. If you have some room in your budget, a 15-year fixed-rate mortgage reduces the total interest you'll pay, but your monthly payment will be higher.
If an ARM is a good option. As rates rise, it might be tempting to choose an adjustable-rate mortgage (ARM). Initial rates for ARMs are typically lower than those for their conventional counterparts. A 5/6 ARM — which carries a fixed rate for five years, then adjusts every six months — might be the right choice if you plan to stay in your home for just a few years. However, pay close attention to how much your monthly mortgage payment can change when the introductory rate expires.
If you're spending more than you can afford. The Mortgage Calculator provides an overview of how much you can expect to pay each month, including taxes and insurance.
How much to put down. While 20% is thought of as the standard down payment, it's not required. Many borrowers put down as little as 3%.
How to lower your monthly mortgage payment
If the monthly payment you're seeing in our calculator looks a bit out of reach, you can try some tactics to reduce the hit. Play with a few of these variables:
Choose a longer loan. With a longer term, your payment will be lower (but you'll pay more interest over the life of the loan).
Spend less on the home. Borrowing less translates to a smaller monthly mortgage payment.
Avoid PMI. A down payment of 20 percent or more (or in the case of a refi, equity of 20 percent or more) gets you off the hook for private mortgage insurance (PMI).
Shop for a lower interest rate. Be aware, though, that some super-low rates require you to pay points, an upfront cost.
Make a bigger down payment. This is another way to reduce the size of the loan.